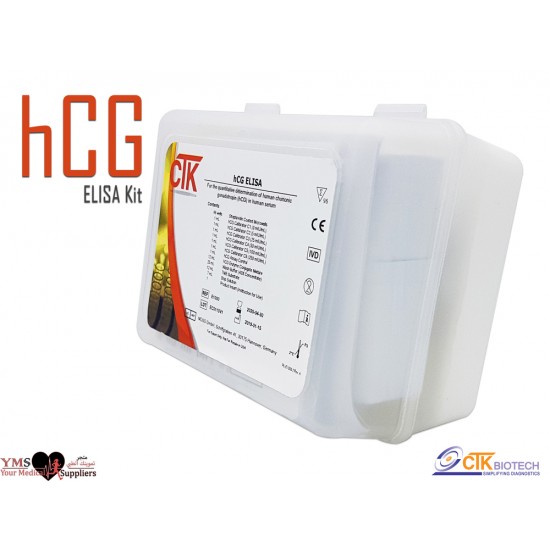 B-HCG ELISA 96 Test
HCG ELISA Kit
96 Test / Kit

A solid-phase enzyme-linked immunosorbent assay based on the principle of the double antibody sandwich technique for quantitative determination of human chorionic gonadotropin (hCG) in human serum.
The three main kit components are:
1) Solid microwells pre-coated with streptavidin,
2) hCG Calibrators,
3) Liquid hCG Enzyme Conjugate Mixture comprised of two individual antibody conjugates: an anti-human hCG antibody labelled with horseradish peroxidase (HRP-Ab) and an anti-human hCG antibody labelled with biotin (Bio-Ab).
The CTK hCG ELISA is intended to be used only by professionals only. Any interpretation or use of this test result must also integrate other clinical findings as well as on the professional judgment of health care providers.
Human chorionic gonadotropin (hCG) is a glycoprotein hormone that plays an important role in the female reproductive system. hCG is involved in maintenance of the corpus luteum and progesterone production, as well as various other functions, such as development of the umbilical cord, development of fetal organs, angiogenesis, suppression of uterine contractions, immunosuppression and protection from invading cells.
Analytical Sensitivity:

10 mIU/mL at 2-SD

Specificity

:

No cross-reactivity or interference with 1000 mIU/mL TSH, 10,000 mIU/mL FSH, 1,000 mIU/mL LH, 5,000 ng/mL PRL, 1 mM/mL Bilirubin, 10 µg/mL Hemoglobin, 10 µg/mL Lipids

Accuracy:

correlation coefficient 0.979 at normal range or 0.960 during early pregnancy with a reference method

Intra Assay Precision:

CV ≤ 6.5%

Inter Assay Precision:

CV ≤ 10.5%

Hook Effect:

no hook effect up to 50,000 mIU/mL